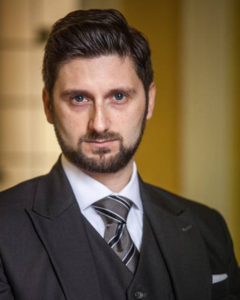 Raffaele Battaglini ha acquisito una significativa esperienza in materia societaria, contrattuale e di M&A. Si occupa, inoltre, di internazionalizzazione e di innovazione delle imprese, seguendone gli aspetti societari e contrattuali. Segue, in particolare, progetti blockchain e ICO, di digitalizzazione di impresa e piattaforme tecnologiche.
Si è laureato in Giurisprudenza presso l'Università degli Studi di Torino nel 2005 e ha conseguito un Master post-laurea LL.M. in Innovation, Technology and the Law presso l'Università di Edinburgo nel 2006. E' co-organizzatore di Legal Hackers Torino e Segretario Generale di AGICONSUL – Associazione Giuristi e Consulenti Legali (socio aggregato di CONFINDUSTRIA Servizi Innovativi e Tecnologici).
Iscritto all'Ordine degli Avvocati di Torino dal 2009.